Well I had a top weekend at Bathurst camping on Mt Panorama with a bunch of great guys (sorry no gals, it was a boys only event).
The group call themselves the "Linguine Drivers Club" and are basically just a collection of motorsport nuts that make the pilgrimage to Bathurst each year in pursuit of a fun weekend.
We travelled by bus (coach) from the Gold Coast via the coastal route, down to Sydney then west over the Blue Mountains and Lithgow to Bathurst.  A long trip (14h), but made easier by the on board entertainment (aided by a bit of alcohol).
Once on site the camp was erected in very short time due to the use of four "quick-shades" rather than tents.  Very bloody handy and worth looking into for your next camping trip.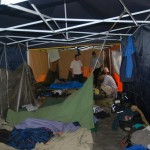 Here are a few of the first batch from Friday I have uploaded into Flickr now moved into Picasaweb (slideshow below) cos I like it better ;).
I will post more over the next few days, keep checking back.
I am trying out a few different online photo sharing apps. This one is Picasaweb by Google. I think I like it.
Linguine Drivers Club Fun.
Friday.
Saturday.
Sunday photos of raceday coming soon ! now uploaded !